The Héma-Québec Foundation would not be able to accomplish its mission without the support of its major donors. Thanks to them, we have successfully funded a number of projects that made a huge difference for the thousands of Quebecers whose lives were transformed by the gift of human biological products from Héma-Québec. By partnering with Héma-Québec, our donors demonstrate their commitment to our cause, and we are profoundly grateful for their generosity in giving the gift of life.
Association of Blood Donation Volunteers (ABDV)
The Association of Blood Donation Volunteers (ABDV) is a non-profit organization that has worked in partnership with Héma-Québec since its creation 1998. This association, the first of its kind in North America, is a key link in Quebec's blood supply chain. For more than 20 years, the Association of Blood Donation Volunteers (ABDV) has worked tirelessly to recruit a new generation of blood donors. With help from more than 750 volunteers spread over 13 divisions across Quebec, the mission of the ABDV is to encourage donors to give blood, platelets, plasma, stem cells and mothers' milk, as well as recruiting new donors in partnership with Héma-Québec. Hundreds of information kiosks are organized every year by volunteers across the province to raise awareness about the different types of donations.
 Since 2013, the Association of Blood Donation Volunteers (ABDV) has greatly contributed to the education and recruitment of plasma donors by deploying teams of volunteers to every area where a Salon PLASMAVIE is happening.
 An important and involved partner of Héma-Québec, the ABDV is funded completely by the Foundation. Thanks to its huge provincial network, the ABDV also helps with fundraising activities by supplying Héma-Québec with volunteers for certain fundraising events, such as the popular Ride for the Cause.
 Every year, the ABDV organizes multiple fundraising activities, such as a fruitcake sale and a solicitation campaign directed at its members, and part of the proceeds are donated to the Héma-Québec Foundation. 
 We are very proud to support the activities of the ABDV, who do so much to increase the reach of our cause in Québec!
 To learn more about the ABDV and its projects, visit their website.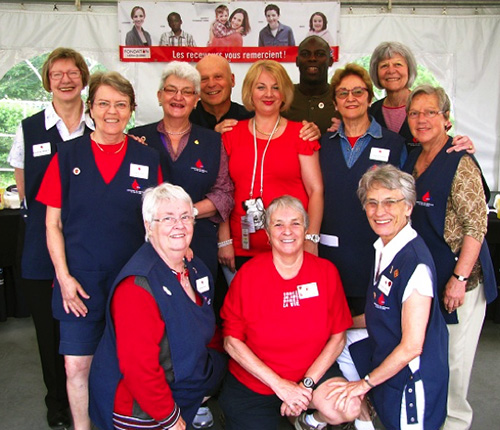 We would like to thank all the following donors, whose contributions each brought specific projects to life.
Plasma donor education and recruitment program
 Study on the distribution of HLA markers among First Nations
Public Mothers' Milk Bank
Over time, many companies have become members of the Foundation's Circle of friends. Some of them have been supporting us for many years and in many ways: donations in response to our annual corporate mail campaign, event sponsorships and major gifts in support of innovative projects close to their hearts. We can't thank them enough. 
Membership in the Circle is permanent. The following list (see under the section Individuals and private foundations) includes cumulative donations of $1000 and more as at March 31, 2021. Donations are listed in alphabetical order.
Individuals and private foundations
As well as companies, the foundation's Circle of friends is made up of individuals and private foundations who have made cumulative donations of $1000 or more. Although this distinguished group comprises many different categories, there are only two words to describe our gratitude for each and every member: Thank you!
Membership in the Circle is permanent. The following list includes cumulative donations of $1000 and more as at March 31, 2021. Donations are listed in alphabetical order. 
The humanitarian (500 000$ and more)
Bayer inc.
Roche Diagnostics
Toyota Canada inc.
The activist (300 000 $ to 499 999 $)
Octapharma Canada
ABDV Funds
The philanthropist (100 000 $ to 299 999 $)
CSL Behring Canada inc.
Fonds Dre Francine Décary
Fonds Patrick Bérard
Mouvement des caisses Desjardins
Mylan E.P.D.
RBC Banque Royale
Takeda Canada inc.
The benefactor (50 000 $ to 99 999 $)
Banque Nationale
Baxter Corporation
Club Lions de Laval inc
Fondation Internationale des Clubs Lions
Fonds des cellules souches
Succession Rita-Dionne
The collaborator (30 000 $ to 49 999 $)
RBC Banque Royale
Succession Jean-Marc Soucy
Succession Cécile- C. Rousseau
The advocate (10 000 $ to 29 999 $)
152245 Canada inc.
Aéroports de Montréal
Bell Canada
BFL Canada risques et assurances inc.
Brian O'Malley
Chevaliers de Colomb inc. (Le Conseil d'État des)
CIBC
CN Compagnie des chemins de fer nationaux du Canada
Dentons Canada S.E.N.C.R.L.
Fondation Aubainerie
Fondation CHU Sainte-Justine
Fondation RBC
Fondation St-Hubert
Fonds Pauline Tremblay
Fonds Me Smaranda Ghibu
Laurent Benarrous
Macopharma Canada inc.
Miville Mercier
Morneau Shepell
Patrick Bérard
Power Corporation du Canada
PricewaterhouseCoopers LLP
RBC Dominion valeurs mobilières
Rio Tinto Alcan
Skelton Truck Lines Ltd
Sylvain Charbonneau
Telus Corporation
The cooperator (5 000 $ to 9 999 $)
Autorité des marchés financiers
Banque Nationale
Groupe Financier
Bruno Bougie
Caisse de bienfaisance des employés et retraités du CN
Canada Online Giving Foundation
Canada Running Series Inc.
CGI
Club Lions de Terrebonne
Conam Charitable Foundation
Davies Ward Phillips & Vineberg
Desjardins Sécurité Financière
Dessau / Stantek
Edelman Relations Publiques
Emergent Bio Solution
Ernst & Young
Finances Québec
Financière Liberté 55
Fondation Air Canada
Fondation de l'Hôpital
Maisonneuve-Rosemont
Fondation des Clubs Lions du Québec
Fondation Desjardins
Fondation du CHU de Québec
Fonds des tissus humains
Gilles Delage
Groupe Conseil RES PUBLICA
Groupe M.G.B. inc.
Guy Lafrenière
Intact Assurance
Les Entreprises Fervel inc.
Letko Brosseau
Ogilvy Renault
PayPal Giving Fund Canada
Pfizer Canada inc.
RBC Wealth Management
Financial Services Inc.
Société des alcools du Québec
Société générale de financement du Québec
Succession Denise-Perrault
Succession Jean-Paul-Archambault
Succession Yvette-Daigle
TD Canada Trust
The Jean Fournel Foundation
The Royal Trust Company
Transcontinental (Capinabel)
Transcontinental inc.
Walker Glass Co. Ltd.
The inspiration (1 000 $ to 4 999 $)
Aedifica
Alban D'Amours
Aline Brochu
Allstate Assurance
André Archambault
André Imbeau
Antoine Lorent
Association d'anémie falciforme du Québec
Avicor Construction inc.
Avison & Young
Banque Laurentienne
Banque Nationale
Banque Scotia
Banque TD
Bearvertails
Beaupré Capital Chrysler
Benoit Gendron
Bernard Casgrain
Biron Groupe Santé
BMO
Boxotel inc.
Bureau des infractions et amendes
Cain, Lamarre, Casgrain, Wells
Caisse centrale Desjardins
Caisse Desjardins Allard Saint-Paul
CanadaHelps.org
Canderel Management Inc.
Caroline Ducharme
Carrefour Desjardins
Céline Grenier
CEMC – Direction des affaires médicales
Centraide du Grand Montréal
Charles Martel
Cheryl Campbell Steer
Chevaliers de Colomb, conseil 3065
Christian Samoisette
Christine Guérette
Claude Pichette
Claudel Lingerie inc.
Clément Joly
CN
Conseil IFACT inc.
Corporation Financière Mackenzie
Cossette Communication
Croix-Rouge canadienne
Daniel Couture
Danielle Perreault
DAVIES WARD PHILLIPS & VINEBERG
Denis Couture
Desjardins Capital de risque
Donald O'Hara
École de technologie supérieure
Emmanuelle Leclerc-Granger
Énergie Directe
Enterprise Holdings Foundation
Éric Bachand
Eric Drouin
Ethel Goldfield
EXP inc.
Fasken Martineau Dumoulin
Fédération des Caisses Desjardins
Fednav Limited
Fidelity Investments
Canada ULC
Filomena Rossi
Financière Banque Nationale
Financière Sun Life
Fonds d'appui aux organismes des employés de produits Kruger
Fondation Armand-Frappier
Fondation Borden Ladner Gervais
Franklin Templeton Investments Corp.
Galerie Symbole-Art
Garda World
Gary Gudbranson
Gaz Métro
GB Cotton
Geneviève Tarte
Gestion Jacques Sylvestre & Associés inc.
Gilles Legault
Groupe Aecon inc.
Groupe Optimum inc.
Harris Computer System
Hélène Akzam
Hélène Boudreault
Hydro-Québec
INRS – Institut national de la recherche scientifique
IGA Gagnon & Filles
Invesco
Invesco Canada
Investia Services financiers et assurances
J.M. Chaput ltée
Jacob
Jean Belzile
Jean-Guy Bisaillon
Jean-Marie Leclerc
Jean-Paul Labelle
Jones Lang LaSalle
Kelly Jobe
Kenniff & Racine
KPMG
Kristiane Maltais
La Capitale Groupe Financier
La Cie Électrique Britton ltée
La Fondation Communautaire Juive de Montréal
La Personnelle
Laurent-Paul Ménard
Le Cabinet de relations publiques NATIONAL
Le Glenmount
Le Groupe Jean Coutu (PJC) inc.
Le Lunetier
LEADERS INTERNATIONAL
Lefaivre Labrèche Gagné s.e.n.c.r.l.
Leo Harley-Davidson
Les Rôtisseries St-Hubert ltée
Les Services Ménagers Roy ltée
Louis Gendron
Louis R. Dufresne
Louis Thibault
Louise Berthiaume
Louise Chartrand
Manika Gaudet
Manoir du Verger
Manon Pépin
Manulife Life Insurance Company
Marc Germain
Marco Décelles
Marie-Claire Berteau
Marius Garon inc.
Mathieu Prud'Homme
Maxwell Cumming Family Foundation
McGill Entrepreneurs Society
McKesson Canada
Merkk Frost Employees'
Charity Fund
Metromedia Plus
Michelle Casoni
Miller Thomson Pouliot
Minh Tuan Anh Nguyen
Morneau Shepell
Mouvement Desjardins
Nathalie Fagnan
Ordre des CPA du Québec
Osler Hoskin & Harcourt
Patrice Bourbonnais
Pfizer Canada inc.
Pierre Brossard
Pierre Deschatelets
Pierre Gauthier
Pierre Thivierge
Poches & Fils inc.
Pomerleau
Power Corporation of Canada
Publicis Montréal
Rack Ultra International
Raymond Chabot Grant Thornton
RBC
Réal Lemieux
Renée Bazin
Résidences Manoir Soleil
Retraite Québec
Robert Chevrier
Robert Marcotte
Roger Carpentier
RPA inc.
Russell Investments
Sandra Pérusse
Sénik
Services financiers
Giroux Ménard
Services immobiliers Bentall
Simon Fournier
Société de gestion Place Laurier inc.
Société en commandite
Élaine et Gaby Pomerleau
Station Marketing
Stationnement Montréal
Steve Jalbert
Succession Diane-Drapeau
Succession Gisèle-Leblanc
Succession Kristiane-Maltais
Suzelle Martin
TD Canada Trust
Technosport Canada
TELUS
The Benevity Community
Impact Fund
Théâtre Tibicik
Thermo Fisher Scientific
Top Menu
Trio Capital
Trust Banque Nationale
United Way / Centraide Ottawa
Véronique Girard
Vézina, Dufault inc.
Videotron
Vimoval inc.
William Brock
Wyeth Canada
Yan Bariteau
Yves Blais
Héma-Québec Foundation
4045, Côte-Vertu boulevard
Saint-Laurent (Québec)  H4R 2W7
Phone: 514 832-5000 # 5372
Fax: 514 904-3077
© 2021 Héma-Québec foundation. All rights reserved.